Engine Performance Maintenance
For the big jobs, take your vehicle to John's Motor & Transmission! Our expert services are ideal whether you have a late model import or newer domestic vehicle. And because we guarantee the work we perform, you can rest assured you are receiving the highest quality engine overhaul and replacement services in the North Tonawanda, NY 14120 area.

The Good news about technology is it does make things better. The advancement in fuel injection and ignition systems has added in longer service times between the "old engine tune up" (Spark plugs , Ignition wires , Distributor caps , and Ignition rotor). Most vehicles can go between 60,000 miles and 100,000 miles before requiring replacement of spark plugs and ignition parts. However due to these long spaces in regular engine tune maintenance there has been a new service requirement that has developed. Fuel filter , and air filters can sometimes be forgotten as a regularly serviced item. A restricted air filter can cost you gas mileage and result is rapid engine deposits that can result in poor performance. A restricted fuel filter can result in pre filter pressure of over 90 pounds - resulting in high pump temperature and premature failure. With the average cost of a fuel pump module running about $300-$500 dollars in parts alone. A fuel filter replacement is a low cost investment to add additional time to your fuel pumps life.

There is another new issue that has developed over the past few years with new engine design. Higher temperatures and changes in fuel make up have resulted in new performance issues caused by carbon deposits on valves and fuel injector nozzle deposits. These deposits can result in pre combustion detonation , rough idle and hard starts. All the domestic manufactures have specific procedures outlined in factory service bulletins to address these issues. Our facility has the procedures and also has the latest Motor Vac machine. This allows us to clean the intake , throttle plate , injectors , valve , and combustion chamber. The machine goes in place of the factory fuel system and runs the vehicle on a special mix of fuel and high detergent cleaner you can't get with an additive. This service results in better idle quality and improved mileage - and lets face it we can all use a little extra mileage out of tank in today's economy.

One last engine issue we would like to inform you about is mechanical and is also one you may not even know about. For many years the engine in your vehicle used a steal chain to synchronize the lower (pistons) and upper (valves) parts of your engine. These chains were lubricated by the engines oil and rarely needed service. As engine design has changed the use of multi-cam engines and increase performance has resulted in engine designs that use a timing belts to keep the lower half and upper half in sync. When they started to use timing belts it was most common on low compression four cylinder engines. The manufacture would test the belt life and set a recommend time to replace it. If the belt broke the only issue would be a car that would not run. Once the belt was changed the vehicle would be back on the road. Well as time has passed and we push for more performance and better fuel economy the timing belt has been put into use on larger high compression engines. The trouble that has resulted is that these engines have tighter tolerances for the valves and pistons clearance. They are so close now that if the piston is up and the valve is open they will collide resulting in damage to the engine. As long as the belt is replaced at regular scheduled intervals this is not an issue - however if you neglect to change the belt due to lack of information or just putting it off you can take a simple timing belt replacement job and turn it into major engine work that is much more costly. In order to help you protect you investment we can check to see if your vehicle has a belt and when it is scheduled for replacement to help you avoid any issues and keep you on the road. Just stop by , call or email us so we can help you with any questions related to you vehicles maintenance needs.

Our engine performance maintenance services include:
Authorized Jasper Dealer
Give Your Vehicle a New Lease on Life with JASPER. That big oil slick in your driveway or those strange noises from under your hood don't have to mean you'll be saddled with a new car payment soon. Instead, your trusted installer at John's Motor & Transmission can drop in a completely remanufactured JASPER gas or diesel engine, transmission or differential and get you back on the road again quickly! Call John's Motor & Transmission at 716-695-1567 to schedule an appointment. Proudly remanufactured in the U.S.A.
Cylinder Block
A cylinder block is the powerhouse for the motor vehicle. The solid cast car part houses the cylinders and their components (gaskets, valves, and seals) inside a lubricated and cooled crankcase. Since it is one of the most important parts of your car, the block is designed to be extremely strong and sturdy. Although strong and sturdy, the block is susceptible to failure resulting in a vehicle that won't start. Cracked blocks, porous blocks, core plug, or freeze plug failure are some of the problems facing cylinder blocks. Call 716-695-1567 to talk to the mechanics of John's Motor & Transmission about your cylinder block problems.
Cylinder Head
A cylinder head is the closed end of a cylinder (located in a car's engine block). It sits above the cylinder block, closing the top of the cylinder and forming the combustion chamber. The cylinder head coordinates airflow in and out of the engine. Since the cylinder head's chief function is to seal the cylinders properly, insufficient compression results in the car being difficult to drive. To have your cylinder head checked and repaired, talk to John's Motor & Transmission's cylinder head repair and reconditioning specialists today.
Diesel
Although diesel engines don't require tune-ups and tend to last longer than gasoline engines, they do require regular maintenance. Typical maintenance tasks include:
Changing the oil & filter
Changing the air filter
Changing the fuel filter
Bleeding the fuel system
Draining the water separators
Refilling the urea injection system
You can count on the experts at John's Motor & Transmission to help your diesel engine last a long time.
Engine Maintenance
Any car part manufacturer will tell you that preventive maintenance is critical to the part's lifespan. Like other auto parts, car engines aren't built to last forever. However, you can increase the engine's lifespan by performing regular preventive maintenance. The easiest way to maintain peak performance and fuel economy is to provide regular engine maintenance for your vehicle. To have your engine maintained by experts, visit John's Motor & Transmission.
Engine Repair and Rebuild
After years of use, your car's engine inevitably deteriorates. If you car needs a new engine and you are not ready to invest in a new car, consider having the engine rebuilt. This involves replacing or resurfacing all the rundown parts in an engine. Regardless of your engine replacement needs, John's Motor & Transmission has experienced engine rebuilders ready to assist you.
Engine Replacement
The engine converts energy into useful mechanical motion. This amazing machine is what keeps your vehicle moving. Although generally reliable, a car engine is susceptible to damage and breakdown. When this happens, do not sit and stress over it. Take action. Take the vehicle to a mechanic for an engine replacement. Bring it to John's Motor & Transmission. Visit us at 559 Ward Road for quality engine replacement services.
Timing Belt
A timing belt is a part of your car's internal combustion engine. The belt synchronizes the camshaft and the crankshaft rotation so that the engine valves open and close at the correct timings. Also, the belt prevents the piston from striking the valves in an interference engine. A timing Belt is a rubber belt that usually features teeth on the inside surface, while a timing chain is a metal roller chain. Most cars we drive now have timing belts instead of timing chains and gears. Although different manufacturers have their recommended mileage, you need to have your car's timing belt checked regularly. To have it checked by experts, contact John's Motor & Transmission today.
Transmission Flush
Although most manufacturers recommend a transmission flush every 30,000 miles or every two years, some symptoms may indicate that you need a transmission flush sooner. Some of the symptoms that indicate that your car needs a transmission flush sooner are: transmission grinding or strange noises, problems shifting gears, slipping gears, surging of the car, and delay in vehicle movement. Flushing the used fluid from the transmission washes away tiny particles of dirt, clutch material, and metal shavings. For all your transmission flush needs, call 716-695-1567 or visit John's Motor & Transmission today - we are transmission experts.
Transmission Maintenance
Any car part manufacturer will tell you that preventive maintenance is critical to the part's lifespan. Like other auto parts, car transmissions aren't built to last forever. However, you can increase the transmission's lifespan by performing regular preventive maintenance. The easiest way to maintain peak performance and fuel economy is to provide regular transmission maintenance for your vehicle. To have your transmission maintained by experts, visit John's Motor & Transmission.
Transmission Repair and Rebuild
When it comes to automatic transmission repair, there are several options: buying a new one, buying a remanufactured one or having yours rebuilt. Each of the above options has its own share of advantages and disadvantages. Of the three options, rebuilt transmissions are the most economical. A rebuilt transmission involves removing the transmission from the car, disassembling it, replacing worn out parts, reassembling it, and then reinstalling it. To have this done by specialists, call 716-695-1567 to talk to the mechanics of John's Motor & Transmission today.
Transmission Replacement
In motor vehicles, the transmission usually refers to the gear box, which uses gears and gear trains to transmit speed and torque from a rotating power source to another device. You can have your car's transmission replaced with a new, rebuilt, remanufactured, repaired or used transmission. For more information contact John's Motor & Transmission in North Tonawanda, NY. Our experienced service technicians can help you make the best decision for your vehicle and your wallet.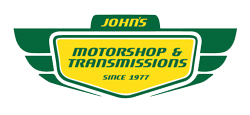 This shop is wonderful, extremely honest. Pricing is beyond fair, I am yet to have a poor experience. Staff friendly, never try to rush you out, always explain in detail what the car needs. I send my son there without any worries. If your not using Johns you may want to consider it.
Ernie L.
join our team
We are currently on the lookout for the following: