Tire Alignment and Tire Rotation Services
Correctly aligned tires will reduce tire wear and ensure that your vehicle travels without "pulling" to one side or the other. Let John's Motor & Transmission's certified tire specialists rotate and align your car's tires during your next routine maintenance service. Our technicians use state of the art equipment to thoroughly examine your vehicle's tires for uneven wear, cracking, or slow leaks.

Avoid uneven tire wear and extend the life of your tires with a fast and affordable tire alignment at John's Motor & Transmission in North Tonawanda. Call us today at 716-695-1567 and schedule an appointment.

Our alignment services:
Alignment
Wheel alignment (or simply alignment) is standard car maintenance that involves adjusting the angles of the wheels so that they are set to the manufacturer's specifications. The main purpose is to let the suspension and the steering systems operate at their desired angles - this reduces tire wear. Alignment is a complicated process and not all mechanics get it right. To have experts handle your car's alignment, visit John's Motor & Transmission.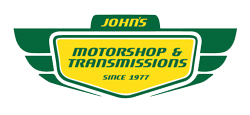 This shop is wonderful, extremely honest. Pricing is beyond fair, I am yet to have a poor experience. Staff friendly, never try to rush you out, always explain in detail what the car needs. I send my son there without any worries. If your not using Johns you may want to consider it.
Ernie L.
join our team
We are currently on the lookout for the following: